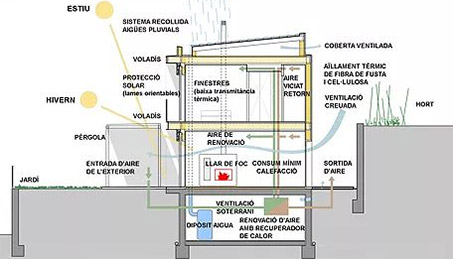 The "Passive" concept is used to describe a building's capacity to make the most of its environment's natural resources, seeking the most independent running possible, minimizing the contribution of additional energy and dependency on mechanical elements ("Active Systems").
During the design process it's important to bear in mind the following concepts:
Correct solar orientation
Look for the sun reaching the inside of the house during the cold months and protecting against it during the hot months.
Thermal insulation
The right thickness allows you to enjoy comfort inside the house both in the summer and in the winter without a need for energy consumption. Insulation needs to be continuous and avoid loss due to thermal bridges.
Natural ventilation systems
Cross-ventilation and energy recuperators.
High performance active systems
Minimizing their use, it's important that installations are highly efficient.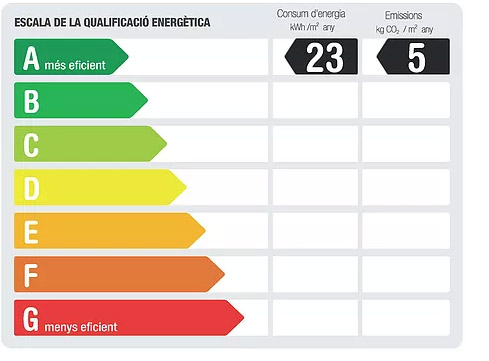 Much more than a label
The A energy rating represents a significant energy and cost savings.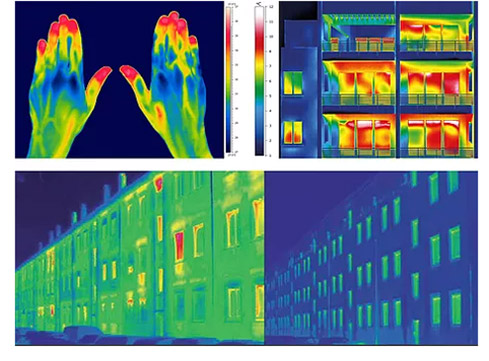 BEFORE
Control of heat loss.
DESIGN, HIGH ENERGY EFFICIENCY, COST SAVINGS


INTERIOR DESIGN AND ENERGY SAVING
When carrying out a full renovation, we need to take into consideration various aspects. In addition to redistribution of the space and change of materials, we offer improvements in the following areas:
Energy-efficiency and therefore, money savings.
Health, quality of life, wellbeing and comfort.
Interior design and style: an updated and personalized aesthetic environment contributes to our wellbeing.
Improving the environment: the best way to contribute to global sustainability starts in your own home.
A good investment: a bioclimatic house consumes less and wears out less, because it's healthier it ages better, you will get a higher energy certificate and so if one day you decide to sell it, it will be worth more.
Health and natural materials
THE TEN COMMANDMENTS OF A HEALTHY HOME
1- HOME AND ENVIRONMENT:
Choice of a placement for the house that is as environmentally favourable as possible, as well as positive urban integration in keeping with the local architecture and the surrounding (countryside, village, city…), prioritizing well cared for outdoor spaces and abundant vegetation (tree-covered or woodland areas, parks…).
2- OVERALL ASSESSMENT OF RESIDENTIAL RISK FACTORS:
Noise and noise pollution, sources of electromagnetic pollution (high tension lines, electrical substations, transformers, mobile phone or telecommunication antennas) or sources of environmental pollution (waste dumps, contaminating industries, incinerators…).
3- GEO-BIOLOGICAL STUDY OF THE LOCATION:
And especially in those spaces where we spend more time (bedrooms, places where we work or rest…) avoiding areas of intense terrestrial radiation, telluric or geo-physical alterations, and crossings of geomagnetic bands, and choosing instead areas known as "good place" beneficial for our health and our lives.
4- ABSENCE OF ELECTRIC OR ELECTRICOMAGNETIC POLUTION INSIDE THE HOME:
Avoiding proximity to sources of electromagnetic pollution and carrying out bio-compatible electrical installations in the house (cable shielding, proper earth wiring, automatic electric deactivation systems).
5- BIO-CONSTRUCTION CRITERIA:
Bioclimatic design that maximizes the natural resources to weatherize the building. Thought-through choice of building systems and materials, aiming to go for those as efficient, comfortable, healthy and ecological as possible. Prioritize energy saving and the use of clean, renewal energies.
6- ECOLOGICAL AND HEALTHY MATERIALS:
Choice of materials, paints, finishes, furnishing and decorative elements that are respectful towards the environment and according to biocompatibility criteria. Materials should contribute to the inhabitants' good health, be transpirable, with low radioactive emission and without potentially toxic chemical compounds.
7- QUALITY OF THE INSIDE AIR:
Keeping a constant renewal of the air inside and a proper ionization. Avoid getting inside the house construction, decoration or cleaning elements that contain chemical substances that are potentially toxic for the health or aggressive for the environment. Choose "soft chemicals". Make extensive use of plants to purify and clean the inside air.
8- NATURAL LIGHT:
Orientation of the main façades towards the sun, wide opening and choice of maximum efficiency artificial lighting, low energy consumption and high biological quality (full spectrum).
9- OPTIMAL MANAGEMENT OF NATURAL WASTE:
Avoid producing excessive domestic wastes, with responsible consumption and selective waste separation. Responsible water management (saving, recycling and ecological purification.
10- THE HOME´S RESPONSIBILITY TOWARDS LIFE, HEALTH AND THE ENVIRONMENT:
Promoting houses that are designed, built and renovated with environmental mindfulness and responsibility, being aware of how a house can have an effect on the health of those living in it, and how it can be a risk factor or have environmental impact. Trying to make homes and working spaces comply within reason with energy hygiene criteria and progressively implement bio-habitability.